First Piling Here For Construction Of Causeway.

Reprinted from: Brownsville Herald August 12, 1930, Brownsville, TX, US.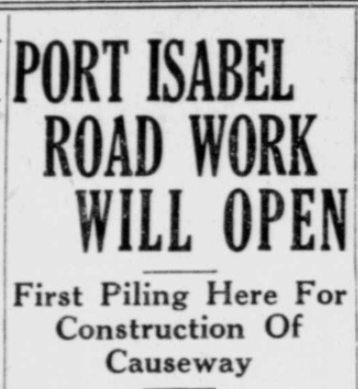 Construction work on the state highway to Port Isabel will open either Wednesday or Thursday, it has been announced by R. W. Briggs, whose company holds the contract. If unhampered by bad weather, Briggs expects to complete the highway in nine weeks.
Work will open at the end of the Los Fresnos paving. The Pharr company has a full, experienced crew ready to begin work and materials and machinery already are on site. With his organization fully lined up, Briggs states he expects to make good progress on the job.
Road Graded
The road already has been graded and structures have been erected. This work has been completed for some time. The road, beginning about five miles out of Los Fresnos and extending into the city of Port Isabel, will be of 18-foot concrete construction, built on rugged state specifications.
The R. W. Briggs and Company has paved over 100 miles in the Valley, most of which was put down in Hidalgo county. In addition to its Valley projects, the company has been pouring much concrete in the coastal portion of the state. It has already put down more than 100 miles in the first half of this year.
The state highway to Port Isabel will give the Valley its second paved stretch to the gulf coast. The Boca Chica road, which has been under construction for some time, will be completed in the near future. Heretofore, the Valley has been without a first class highway to the beach.
Piling Arrives
The first load of pilings for the Port Isabel causeway arrived this week, according to reports from the development company. The paved highway and the causeway are expected to boost Port Isabel's stock as a beach resort, realtors declare. It could not be said today when work will begin.
In order to avoid a detour, persons going to Port Isabel out of Brownsville should use the Old Point Isabel road.
This 1930 article leaves us some clues about one of the first attempts to connect South Padre Island to Port Isabel with a causeway. Travelers at the time were able to take a ferry from Port Isabel to South Padre Island and even take their cars with them. Caliche roads connected many Rio Grande Valley towns before they were paved. Caliche was considered an all-weather road and made a trip to the coast much less dramatic.

Valerie Bates